PITTSFIELD NH
Pittsfield NH /Northwood NH - (find us on BING)
Pittsfield NH Photo Links

Home Page
Various web page links focusing upon Pittsfield, New Hampshire
It's Homes, Sights, and Events
by
Paul Oman
Pittsfield, NH is a small community of about 5,000 people located in central New Hampshire. Concord, the state capital is about 18 miles due west and the seacoast is about 35 or 40 miles east.
MY Pittsfield, NH- 03263 Home Page Links
Putting Pittsfield NH and its Homes and Sights by Paul Oman - Pittsfield Home Page

---
Pittsfield and Northwood New Hampshire have their own web site - PITTSFIELD - NORTHWOOD NH
---
Pittsfield, NH is a small community of about 5,000 people located in central New Hampshire. Concord, the state capital is about 18 miles due west and the seacoast is about 35 or 40 miles east. Being not quite in the "Lakes Region", not in the White Mountains, and not on the seacoast, it gets overlooks by the tour books and visitors. We like that. It is a part of the state the people pass through but often don't stop. The town straddles the Suncook River and it was dams and water power that created Pittsfield and turned it into a typical New England mill town. The town became the hub community for the surrounding smaller towns. Pittsfield had shopping in its small downtown, jobs in the mills, and after 1869 railroad connections to the outside world. It peaked in perhaps 1900 with mansions along Main Street and stone / brick public building designed by well known architect. Its Pittsfield Academy was the school of choice for the region's young men and woman and it graduated some well known people.

Today, the town is much different, a shadow of its former self. The mills are gone. The mansions are now apartment buildings. The school system needs improvement and teen crime and drugs were front page news in the Concord Monitor newspaper during the summer of 2007. The railroad is gone. The grand old buildings are silent reminders of better times that are gone for good. Yet traces of the old charm and character remain. While downtown can be described as 'rundown' it is too small in area to invoke any feeling of 'skid row' or 'inner city.' To me, living here is more like putting on an old, albeit worn, jacket that is comforting in its memories and fit even it is no longer in the best of shape.

Of course, the town is not alone in its decline. Nearly all New England communities have seen better days. Only the luck ones become spruced up Norman Rockwell tourist sites. Most, like Pittsfield, become home to hard working, blue collar folks more interested in making a living than in downtown historic preservation. While that is a sad thing in one way, it is a rather ordinary, comforting and natural state of existence in another way. It's my home and I like living here!
---
SUNCOOK RIVER VALLEY CUPOLAS

During 2005 Paul began taking photos of cupolas in towns along the Suncook River (Pittsfield, Center Barnstead, Parade Barnstead, Epsom, and Chichester, NH). CLICK HERE
---
ONE YEAR IN NEW HAMPSHIRE

Starting in Sept 2002, Paul photographed the front of his house every two weeks for a full year. See what the weather is really like in Pittsfield, NH through the year. CLICK HERE
---
THEN AND NOW PHOTO EXHIBIT

Side by side comparisons of postcard photos (1906 - 1916) and the same shots taken in 2006 in and around the town. - plus commentary about living in Pittsfield. CLICK HERE (Pittsfield Then and Now)
---
PITTSFIELD ARTICLE - "PITTSFIELD - PLAIN AND SIMPLE AND LIKING IT THAT WAY!" - By Kathleen D. Bailey
Published in New Hampshire ToDo magazine (www.nhtodo.com - June 2009) Reprinted/posted with permission of the magazine.
CLICK HERE (Pittsfield nh article)
TOWN PHOTO ALBUM
Just an album of shots taken in Pittsfield, NH. CLICK HERE
---
DOWNTOWN MYSTERY PHOTOS
Can you find these 24 objects as you stroll along in downtown Pittsfield? We're looking at door knobs, signs, and house trim etc. on and off Main Steet. Walk with your eyes and not just your feet! CLICK HERE
---
THE BEST AND THE WORST
---
LANDMARKS - GETTING TO KNOW PITTSFIELD, NH

CLICK HERE (Pittsfield Landmarks)

Enjoy the town's 2007 Old Home Days parade

CLICK HERE (Pittsfield nh Parade photographs)

AMERICAN CIVIL WAR
Info on the men listed on the town's Civil War monument -(www.pauloman.com/monument.html)

More info about certain people on both of Pittsfield's CW markers - written as Memorial Day and Vet. Day articles -(www.pauloman.com/memorialday.html)
---
Return to Paul Oman's Pittsfield NH Pages home page
######
---
Another GENERAL INFORMATION website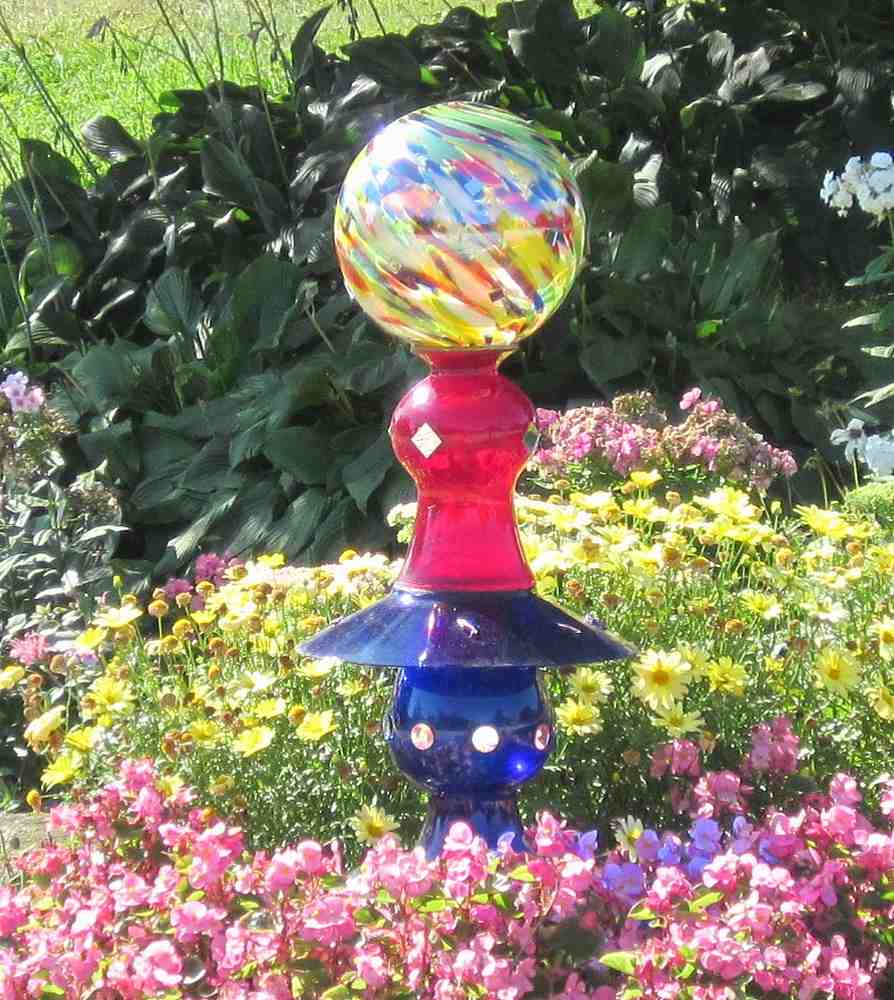 Visit our Pittsfield NH friends at
New Hampshire Glass Sculptures
As explained in the Pittsfield Historical Society web site
Founded in 1768 by John Cram, initially Pittsfield was a collection of farms with several small centers of activity: The Lower City, Upper City, South Pittsfield, Knowltons Corners and the Berry District. Each of these places had a number of homes and some combination of stores, churches, schools and mills. Within a few decades, the "Lower City" along the Suncook River became the dominant political, social and industrial center of activity in Pittsfield. The town of Pittsfield, New Hampshire was incorporated on March 22, 1782 and its first meeting house erected in 1789. The first church was erected in 1789 in what now houses the present Pittsfield Community Center The first school was constructed in 1777 near Catamount Mountain across from the Quaker Burying Ground.
From the very beginning, industry played an important role in Pittsfield economy. Upon his arrival, Cram erected saw and grist mills. About 1820, James Joy erected a scythe factory below these mills and in 1826 a cotton mill was erected. In 1826, Cotton Drake engaged a shoe maker to come to Pittsfield to teach his sons how to make shoes. The idea caught on and soon dozens of farmers and their families were manufacturing shoes in their homes.
Between 1830 and 1840 the town population grew by 34.7%. As a result, new homes had to be built. To meet this demand James Joy and his successors at the cotton mill built a number of houses which became known as the "Corporation." Others erected stately single-family homes in the down area.
With the arrival of the railroad in 1869, Pittsfield became the commercial center of the Suncook Valley. Farmers brought their products from surrounding towns for shipment to Boston and points south. The same farmers purchased dry goods, groceries, farm implements and other products in Pittsfield's stores which gave rise to a tremendous increase in commercial activity. In 1924, the Suncook Valley Railroad became a part of the Boston and Maine system and continued to serve the valley that gave it its name. The end of the railroad era occurred in 1950.
In the war between the states, "it is doubtful if any other town furnished a more honorable list of men than Pittsfield, in proportion to the size. Pittsfield sent into the ranks one hundred and forty seven. Of these fifty-nine were either killed or permanently disabled; more than 40 percent were casualties." E Harold Young, History of Pittsfield
In 1870, Doak, Pecker & Swett erected a 30' by 200' shoe factory on Catamount Street near the railroad depot. Later the factory was doubled in size. Soon several other shoe factories emerged. Most importantly, in 1879 "Riverside 1" was erected below the cotton mill on Joy Street. It was occupied by C. B. Lancaster which immediately began constructing another building, "Riverside 2" adjacent to it. By 1880, there were thriving shoe businesses on both ends of Pittsfield Village.
In 1901, Globe Manufacturing Company moved to Pittsfield. Since that time, Globe Manufacturing has grown to over 180 employees and is recognized as the largest manufacturer of protective clothing for firefighters in the world.
---
RECENT FOUR ALARM FIRE IN PITTSFIELD
The March 2014 four alarm fire at Rustic Crust
pizza dough factory
left 100 workers with no place to work
(Building was opposite Floral Park Cemetery
on the banks of the Suncook River)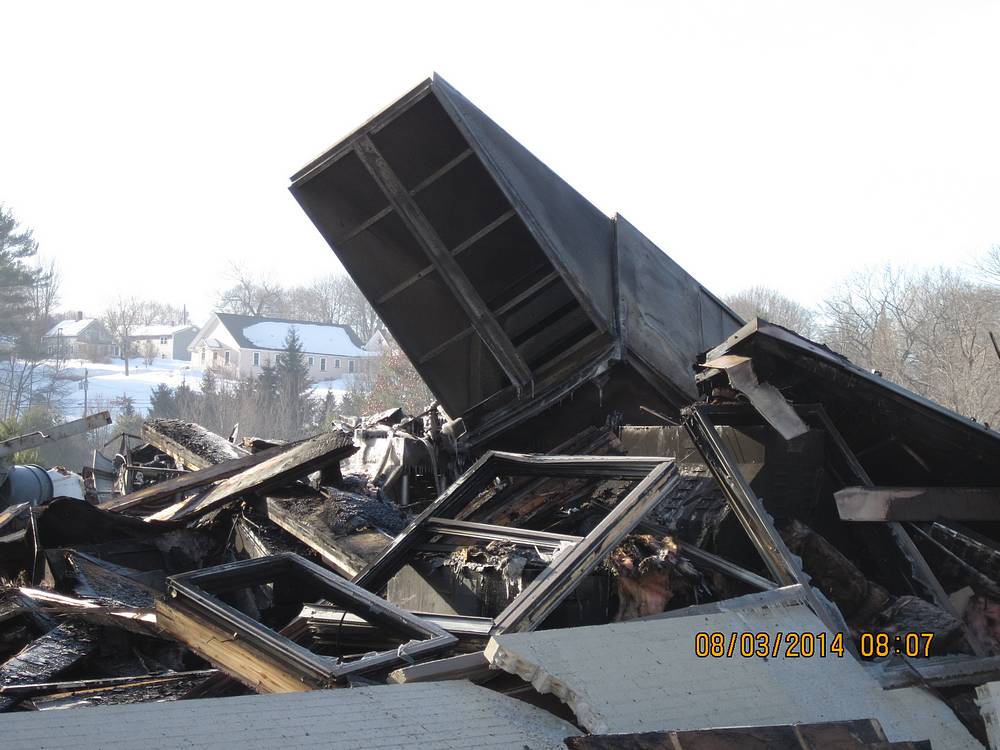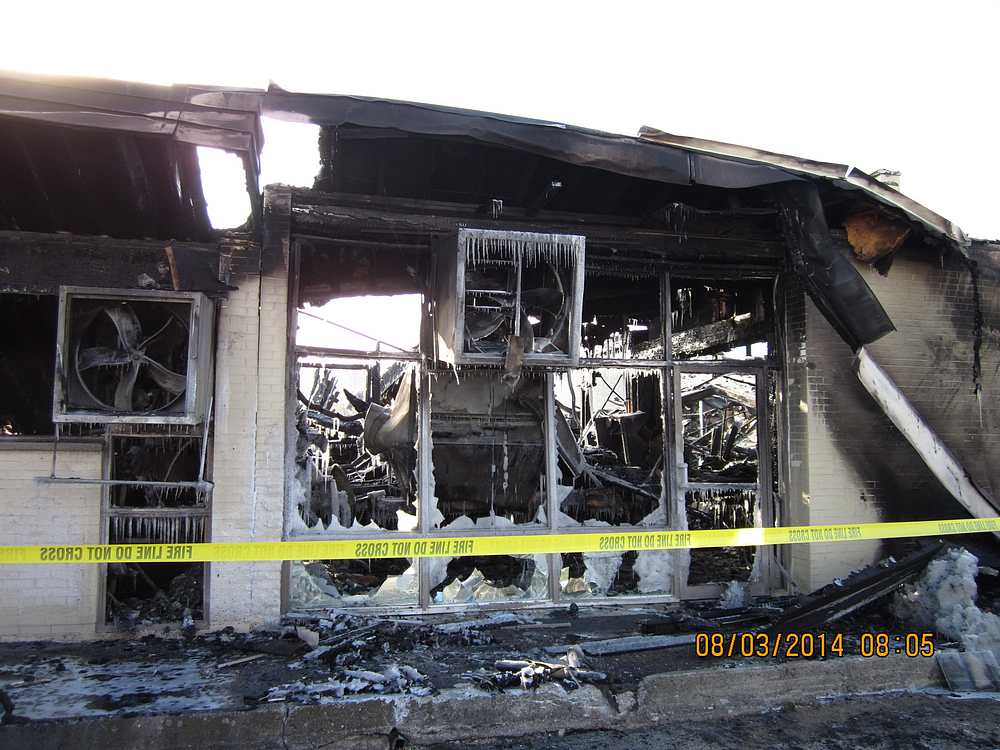 ---
Awesome Pittsfield

New Hampshire

<==== click

Places to Eat in

Pittsfield, NH

click ====>

Then and Now

Pictures of

Pittsfield, NH

click ====>

Pictures of

Pittsfield, NH

<==== click

Harvey Lake

Northwood, NH

<==== click

Pittsfield, NH

in the

Civil War

click ====>

Cupolas Along The

Suncook River Area

click ====>

Friday Night Paddlers

Home Page

<==== click

Death of

An Old

Barn

<==== click

Northwood

New Hampshire

click ====>

Progressive Epoxy

Polymers, Inc.

Home Page

click ====>

Pittsfield

New Hampshire

Landmarks

<==== click

Pittsfield and

Northwood, NH

Home Page

<==== click

One Year in

Pittsfield

New Hampshire

click ====>

Best and

Worst of

Pittsfield, NH

click ====>

ToDo Magazine

Pittsfield, NH

Article

<==== click

Friends of the

Suncook River

Home Page

<==== click

Attack On

American Flag

click ====>

Pittsfield

New Hampshire

click ====>

Email Us

at

<==== click
---
Pittsfield, New Hampshire NH 03263 - Paul Oman
MY Pittsfield, NH- 03263 Home Page Links
Putting Pittsfield NH and its Homes and Sights by Paul Oman - Pittsfield Home Page