Pittsfield, NH 03263

return to pauloman.com homepage
---
Everyone Loves a Parade!
PITTSFIELD NH
by Paul Oman 10/07
---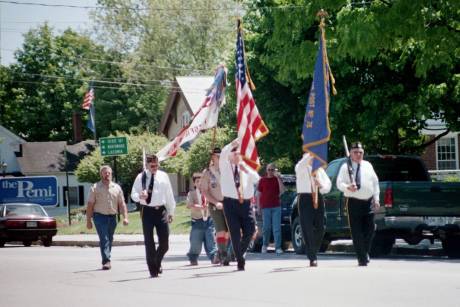 \
There is something very patriotic, in the true Norman Rockwell sense, about small town America parades. Instead of million dollar floats and balloons the size of city buses, real parades have out-of-step boy scouts pulling red wagons and the local fire department driving their old fire truck behind a trailer load of pre-schoolers being towed by a farm tractor.

Pittsfield, New Hampshire is just such a community. Every July there is a local parade during what is known as Old Home Days. Old Home Days is a New Hampshire tradition dating back to 1899.

So Internet traveler, take a step back in time and enjoy the 2007 Pittsfield, NH Old Home Day parade (Click here for the photo album)
---

site sponsor -- Pittsfield based - Progressive Epoxy Polymers, Inc.
---
return to pauloman.com homepage
---
"If we must disagree, let's disagree without being disagreeable."
Lyndon Baines Johnson Source:Remarks to US Senators, 1965

---
---