Pittsfield, NH 03263

return to pauloman.com homepage
---
Memorial Day & Veteran's Day
in Pittsfield, NH (03263)
RE: Civil War Monuments in Pittsfield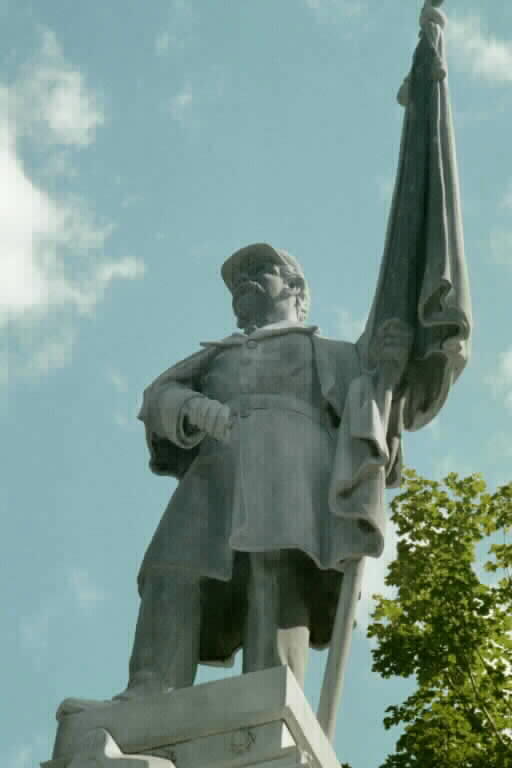 Civil War and Memorial Day in Pittsfield, NH
PITTSFIELD NH The Civil War and Memorial Day in Pittsfield NH

---
Appropriate Audio
---

by Paul Oman
Pittsfield, NH
5/04

We call it Memorial Day, but it was called Decoration Day when first established three years after the end of the Civil War. The nation needed to honor and decorate the graves of its Civil War dead. It would do so with springtime flowers. It was to be observed on May 30th, when flowers would be in bloom all across the nation.

The Civil War veterans' group, known as the G.A.R. - Grand Army of the Republic - received orders from its national directory to decorate veteran's graves "with the choicest flowers of springtime" and urged that, "we should guard their graves with sacred vigilance," and that we should, "let no neglect, no ravages of time, testify to the present or to the coming generations that we have forgotten as a people the cost of a free and undivided republic."

Pittsfield had an active G.A.R. post, Named after Willard Cobb, a Pittsfield soldier who served his time in the army then re-enlisted and was killed in battle. No doubt the community of Pittsfield, took the call for Decoration Day to heart.

Like the Civil War generation of long ago, Pittsfield residents have vowed not to forget Pearl Harbor, Vietnam, 9/11 and other historic turning points. It is time for today's Pittsfield residents, both young and old, to recall not just the events within their lifetimes, but also to learn, honor and commemorate the original local heroes of Memorial Day and to confirm again that we have NOT "forgotten as a people the cost of a free and undivided republic."

Pittsfield's civil war monument contains the names of 147 residents who answered the call to risk their lives for the preservation of the United States of America. Eighteen of them died in battle, another 11 died of disease and 34 of them were eventually discharged as a result of disabilities. Thirty of them rest in war time graves in southern soil. Many, perhaps most, of those that were mustered out with their regiments when the war ended and returned to Pittsfield, returned with physical, and perhaps mental, scars and wounds that would in many cases shorten their lives. So it was that in 1890 the citizens of Pittsfield dedicated a monument to acknowledge the sacrifices a generation of Pittsfield men made to their country.

Although not born here, Charles Ring has spent most of his 18 years in Pittsfield when he enlisted in Company H of the 3rd NH along with his 19 year old cousin, John Brooks who also lived in Pittsfield. Thirteen months later, in Aug of 1862, Ring and his company were sleeping in a house at Pinckney Island, SC when the confederates attacked. Some of the men leaped out of windows to escape, but Ring and others grabbed their guns and put up a fight. For his valor and bravery, Ring was shot five times. He crawled under the house to meet his fate, but the confederates were not done. They stabbed him seven times with a bayonet. Finally the enemy was repulsed, and Ring was taken to the hospital, only to die 12 hours later. In June of 1864 Ring's cousin, John Brooks would also die of wounds received in battle.

Henry French was clerk for his Uncle. He was married and lived on Lyford Hill when, at age 29 he joined Company F of the 12th NH as a Second Lieutenant during the summer of 1862. He proved his courage and bravery at the Battle of Chancellorsville, where the 12th NH was decimated. He even managed a brief visit home in time to see his new child, born while we was away. But them fate turned against Lieutenant French. Shortly after returning to his regiment French learned that his wife had died. Depressed, he told his commanding officer that he believed he would be killed in the next battle. That next battle was Gettysburg, and while receiving orders in the height of battle, French was shot in the head and killed instantly. He was the only officer in the 12th NH regiment to be killed at Gettysburg.

Henry Leavitt was 37 and a prominent Pittsfield lawyer when he helped raise a company of men, several from Pittsfield, that would become Company G of the NH 7th Regiment in November of 1861, with Leavitt as their Captain. The 7th spent the first part of the war stationed along the Atlantic coast outside of Charleston, SC. With the 7th NH was the 54th MA, an all black regiment made famous for their bravery in storming the walls of the Confederate's Fort Wagner. Their story was told in the movie Glory. What is less known is that behind the 54th MA came the 7th NH with several Pittsfield men, including Leavitt, in its ranks. Bravely the Union Soldiers fought, finding themselves trapped and surrounded on the walls and parapets of the fort. Leavitt receives a wound and goes down. The attack fails and the Confederates remain in control of the fort with the wounded Captain Leavitt now a prisoner of war. He is sent to a confederate hospital in Charleston, but he dies the next day.

Take a moment out of your busy day the next time you are walking through downtown Pittsfield to visit our Civil War monument in Dustin Park. Find the names of Willard Cobb, Charles Ring, John Brooks, Henry French, and Henry Leavitt and thank these men, and their other 142 companions, who did their duty so that you could stand there, safe and sound in beautiful Pittsfield, NH 139 years after the final shots of the American Civil War. Perhaps you can also find a spring flower to place at the foot of the monument just to let them know you have not forgotten and that their sacrifices done in the name of Pittsfield and America, means as much now as it did then.

Note: Of those mentioned above, only the bodies of Henry French and Charles Ring made it back to Pittsfield. Both are buried a short distance from each other near the old iron gate entrance to Floral Park Cemetery.
---


Pittsfield's Other Civil War Monument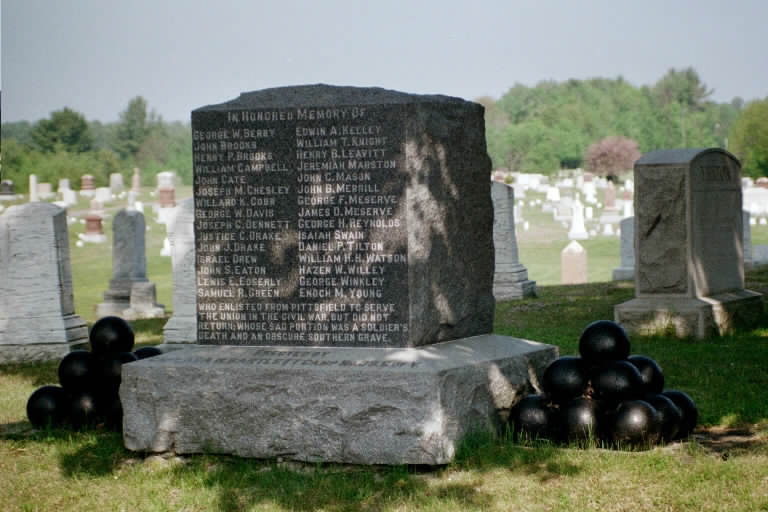 November 11, the holiday we now call Veteran's Day, was originally called Armistice Day and it marked the end of WWI. It has been celebrated since 1919 and for many years became bigger and grander with each passing year. After the end of WWII it seemed appropriate to honor not just the veterans of the First World War but also those new veterans of the Second World War and ALL American Veterans from all American wars. On May 24, 1954 Congress changed the holiday's name from Armistice Day to Veteran's Day and President (General) Eisenhower stepped forward to promote the new holiday.

Thus it seems fitting to once again give our attention to the Civil War heros of Pittsfield. During Memorial Day of this year I wrote about the men named on the monument in Dustin Park. Now on the other day of the year dedicated to honoring our veterans, it is time to mention Pittsfield's other, much less well known, Civil War monument.

Within the confines of Floral Park Cemetery, about 250 paces from the newly dedicated General Thyng memorial heading 30 degrees east of due north sits a large dark gray stone marker flanked with 13 cannon balls on either side. The marker bears the names of the 30 Pittsfield soldiers who died while in service to their country and whose body did not make it home to a Pittsfield grave. During the Civil War the bodies of Northern soldiers who died were rarely sent home. Probably only the bodies of Charles Ring and Henry French made it back to Pittsfield, thus the 30 names are nearly all of the Pittsfield residents that did not survive the war. Percentage wise, those 30 names would be 90-100 names in today's much more populated Pittsfield. One gets an idea of Pittsfield's contribution and loss when viewed in that manner. Imagine 100 of today's young men of Pittsfield, all brave soldiers and many close friends, gone within a 3-4 year period and never to return.

Of those 30 men listed on the stone 16 died as a result of battle and 9 from disease. Three, George Meserve, Daniel Tilton and Justice Drake died as prisoners at the infamous Anderson Prison while Willey Hazen and Henry Levitt were both wounded and captured at Fort Wagner and died as prisoners a few days later in Charleston, SC. (The Fort Wagner battle was mad famous by the movie 'Glory' where the troops of the 54th Mass. showed the nation the bravery of black soldiers). William Campbell, James Meserve, Lewis Edgerly, and James Meserve were also killed at Fort Wagner and their names are on the monument. It is probably impossible to prove but Henry Plummer Brooks may have been the youngest soldier in the Union army while Israel Drew may have been the oldest. Both lied about their ages and both died of disease far from Pittsfield.

John Eaton, who was said to own more horses than anyone else in Pittsfield, was given a disability discharge in Louisiana, but died and was buried at sea while on his way home.

It is known that at least four predicted their own deaths. These include John Brook, John Cate (who lied about his age - he was much older than he officially stated), John Merrill (his wife was the daughter of a NH governor) and George Reynolds. Henry French, mentioned above and not listed on the monument, was the only officer in the 12th New Hampshire Regiment killed at Gettysburg, also somehow knew he would die in that battle. His grave marker is located just a few feet from this Civil War monument. Other Pittsfield residents Joseph Chesley, Samuel Green and William Knight were also mortally wounded at Gettysburg. Their names are on this monument.

Poor George Winkley was found dead at the side of a road during a march. Deaf John Drake died in his sleep. John Mason drank some bad milk and died. Isaiah Swain died on way home to Pittsfield.

All these men carried the name and spirit of Pittsfield to battlefields far from New Hampshire and all never returned. We owe them a debt and on this Veteran's Day. T they deserve a moment of recognition and appreciation from all of us that took their places in the New Hampshire community of Pittsfield that both they and we call home.

Our warmest thoughts to all our veterans!
---
---
---

site sponsor -- Pittsfield based - Progressive Epoxy Polymers, Inc.
---
return to pauloman.com homepage
---
"If we must disagree, let's disagree without being disagreeable."
Lyndon Baines Johnson Source:Remarks to US Senators, 1965

---
---