Paul Oman
Pittsfield, NH 03263

return to pauloman.com homepage
---
---
---
Pittsfield, NH 03263
The Best and the
Worst of Pittsfield (2007)
by Paul Oman 1/08
Part of the "Pittsfield NH Pages"
copyright 2013 paul oman
---
---
---
The Town of Pittsfield, NH (zip 03263)
Based upon the opinions of Pittsfield resident
Paul Oman
Pittsfield, NH is a small community of about 5,000 people located in central New Hampshire. Concord, the state capital is about 18 miles due west and the seacoast is about 35 or 40 miles east. Being not quite in the "Lakes Region", not in the White Mountains, and not on the seacoast, it gets overlooks by the tour books and visitors.
---
Pittsfield, NH is a small community of about 5,000 people located in central New Hampshire. Concord, the state capital is about 18 miles due west and the seacoast is about 35 or 40 miles east. Being not quite in the "Lakes Region", not in the White Mountains, and not on the seacoast, it gets overlooks by the tour books and visitors. We like that. It is a part of the state the people pass through but often don't stop. The town straddles the Suncook River and it was dams and water power that created Pittsfield and turned it into a typical New England mill town. The town became the hub community for the surrounding smaller towns. Pittsfield had shopping in its small downtown, jobs in the mills, and after 1869 railroad connections to the outside world. It peaked in perhaps 1900 with mansions along Main Street and stone / brick public building designed by well known architect. Its Pittsfield Academy was the school of choice for the region's young men and woman and it graduated some well known people.

Today, the town is much different, a shadow of its former self. The mills are gone. The mansions are now apartment buildings. The school system needs improvement and teen crime and drugs were front page news in the Concord Monitor newspaper during the summer of 2007. The railroad is gone. The grand old buildings are silent reminders of better times that are gone for good. Yet traces of the old charm and character remain. While downtown can be described as 'rundown' it is too small in area to invoke any feeling of 'skid row' or 'inner city.' To me, living here is more like putting on an old, albeit worn, jacket that is comforting in its memories and fit even it is no longer in the best of shape.
---
THE BEST

1) Pittsfield, New Hampshire is in a wonderful and convenient location:
Distances from Pittsfield to other wonderful places:

Airport in Manchester, NH 37 miles
To MA border 53 miles
To downtown Boston 82 miles
To Providence RI 175 miles
To Steeplegate Mall 14.5 miles
To Concord Hospital 22 miles
To Walmart/Target/ Home Depot 14 - 15 miles
To exit 14 on I 93 - 17 miles
kmart 24.5 miles
To Portsmouth, NH /Maine border 40 miles
To Frisbie Hospital in Rochester, NH 23 miles
To Freeport, ME 125 miles
To Portland, ME 98 miles
To Wolfsboro, NH 27.5 miles
To downtown Manchester, NH 31 miles
To New Haven, CT 225 miles
--------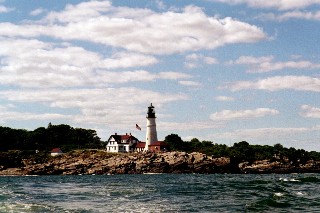 Portland, ME
---

2) A wonderful Pittsfield downtown area....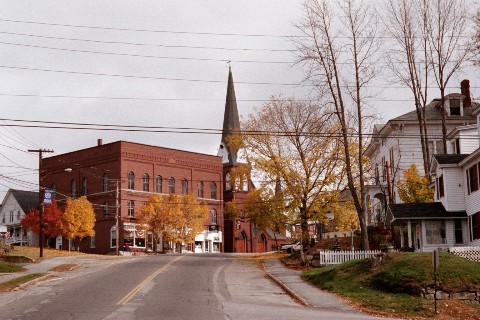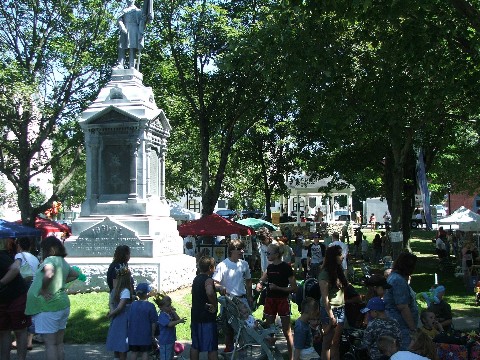 ---
3) The Suncook River flows through Pittsfield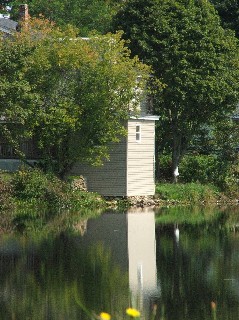 ---
4) A wonderful history.....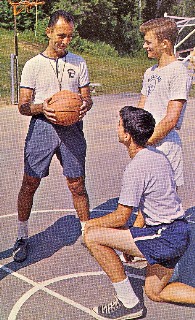 Basketball great Bob Cousy shows some of the finer points of the game
to Campers at his Pittsfield, NH based Camp Graylag (circa 1960s)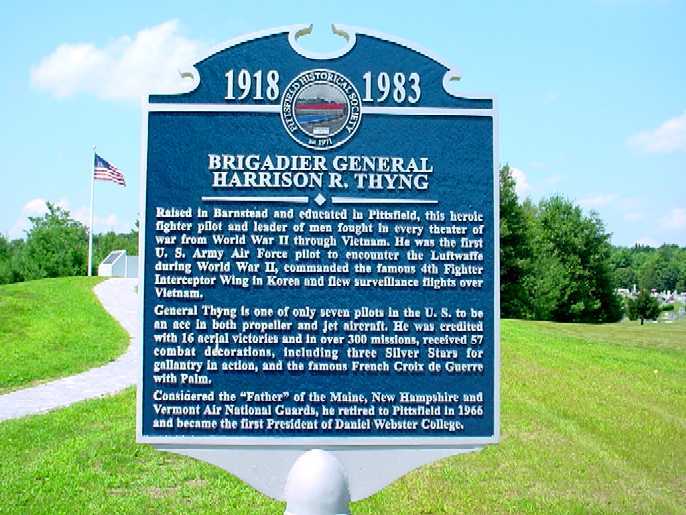 photo from the Pittsfield Historical Society

More on General Thyng CLICK HERE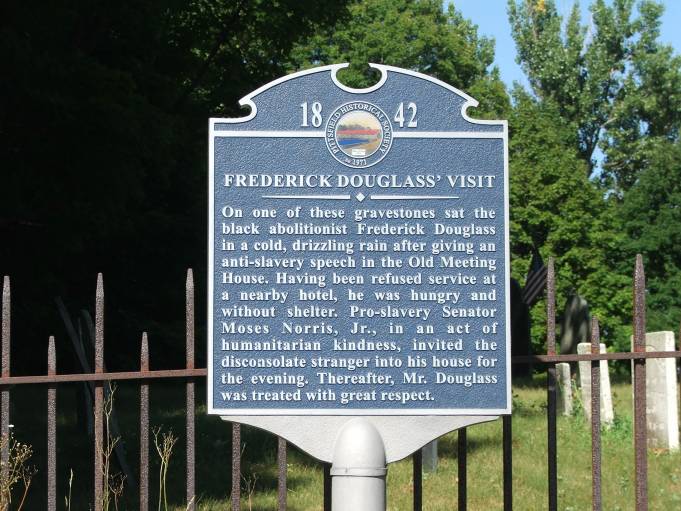 "Founders Cemetery"
---

5) A dedicated core of Pittsfield supporters.....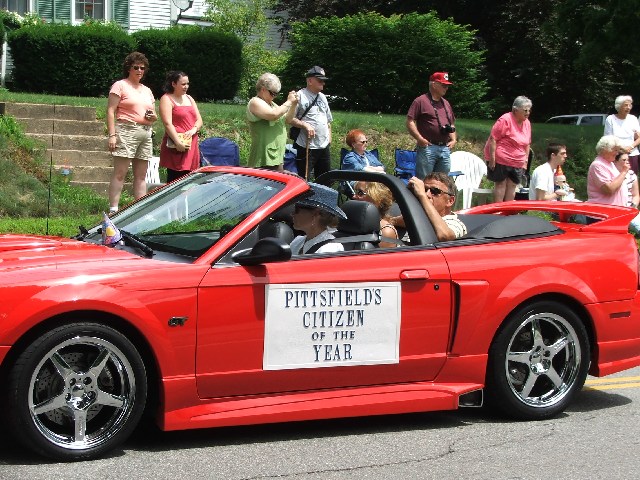 Concord Monitor - July 25, 2007

A Gilmanton couple have donated $1 million to establish the largest single source of scholarships for Pittsfield Middle High School graduates.

Richard and Lois Foss have given smaller sums of money to help the school with projects in the past, but they hope their new trust fund will provide seniors $40,000 in scholarships a year, divided among as many qualified applicants as possible.

"This past year, we decided to go right ahead and do it," said Lois Foss, who's 73. "Pittsfield is kind of one of those communities that is not, you know, very wealthy, and we just feel that it will help turn around the town, we hope. We thought this was a good way to do it, by helping the young people get a better education. . . . Pittsfield used to be a really thriving community, years ago, when my husband was young, and he would like to see it get back to that."

Richard Foss, 81, grew up in Pittsfield, graduated from Pittsfield High and went into the military. He later started his own construction company, R.C. Foss and Son. The idea behind the scholarships, he and his wife said, isn't to provide seniors with a full ride to a four-year college, it's to help them begin a secondary education.

"This is to assist many and let them use their own initiative" to find additional financial support, Richard Foss said. "There's a lot of students that go to tech school, which I think is a good thing. There's some that go to college - it's diversified. I think we want to help anybody that we can."

Between 50 and 65 students graduate from Pittsfield High every year, and there are 20 to 30 scholarships from businesses or trusts available to those graduates, School Board Chairman Scott Brown said. The Fosses' fund is by far the largest. Before the $1 million gift, Pittsfield's biggest scholarship trust was the Dr. F.B. Argue fund, valued at roughly $23,000 and generally used for graduates pursuing medical studies, said Cara Marston, one of Pittsfield's three town trustees.

"We've never had this much money. It's just so generous," Marston said.

The trustees, who are elected officials charged with overseeing the town's trust funds, hired MassMutual Financial Group and Bingham Legg Advisers to invest the Fosses' gift, Marston said. The amount of scholarship money handed out each year will depend on how much interest the fund generates, she said, but the desired starting point is $40,000.

There won't be a set number of scholarships awarded each year, the Fosses said, and the dollar amount per scholarship will depend on the number of applicants. The applicants will likely be judged on academic achievement, leadership ability, teacher recommendations and financial need, among other factors, Marston said.

At their next meeting in September, the trustees will form a committee to evaluate applicants, Marston said. In their trust, the Fosses specified different people they would like involved in the decision - a guidance counselor, the school principal, a school board representative and a selectman, for example - and Marston expects all three trustees to sit on the committee as well.

That committee selection process sets the Fosses' fund apart from other town scholarships, most of which aren't decided by a large group of people, Brown said.

"I think it will have a very positive impact," he said. "If there's 40 or 50 thousand dollars available, we certainly can look to help some of our students who are maybe reluctant to try to go to college or technical school, that this will help them make that decision that it is feasible, it is affordable."

The Fosses hope the fund will be a lasting benefit to the community.

"This is something that we want to see continue on, not just for a short time, but for a long time," Lois Foss said, "long after we're gone."

MADDIE HANNA
Monitor staff
---
THE WORST
1) The schools are lacking (2007)....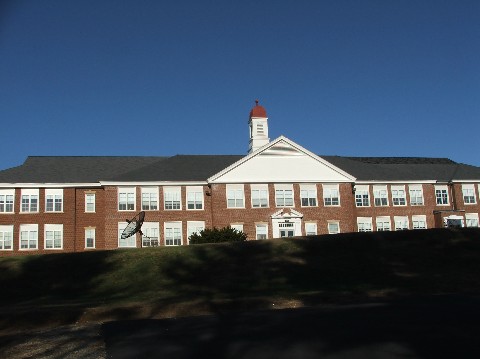 Pittsfield schools are the worst in the state. The NH Department of Education the 2004-2005 Attendance Rate for the Pittsfield School District places it in the bottom 20 of 171 districts. Over 80% of NH high schools (2005/2006) have a lower dropout rate than PHS. The PHS 2005 class had significantly less students taking the SAT exam than the state district average, Their scores were lower than the state school district averages (as per the Department of Education's website). Outside the classroom, our soccer team has been banned from NHIAA-sponsored events, due to "Flagrant episodes of unsportsmanlike conduct." The reality is that school data firms and the state's own educational system have placed the Pittsfield school system, and especially the high school, among the worst in the state in just about every category.

http://www.psk12.com/rating/index.php, a provider of school performance information, using NH school test scores for the years 1998-2004 (2004 is the latest set of available state scores), rates PHS as 82 out of 82. That's the worst in the state. PMS is not much better - 178 out of 197. The elementary school is in the bottom 25%.

These shockingly ratings adversely affect the value of local real estate, the economic development growth of the town, and the future of its children.
---

2) The downtown area is both a plus AND A MINUS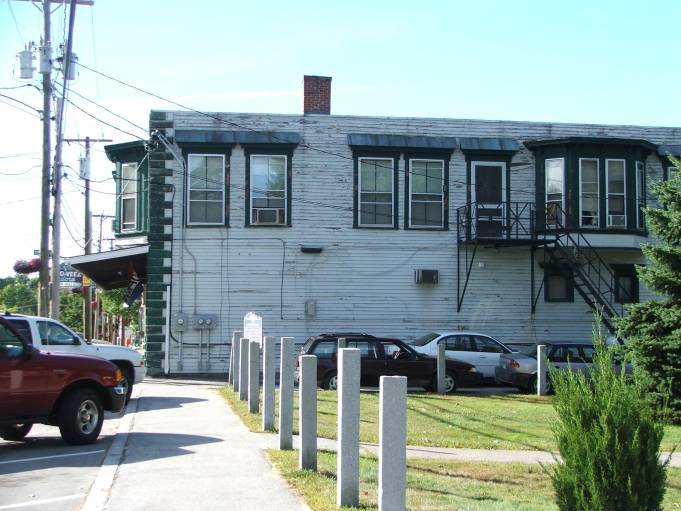 Now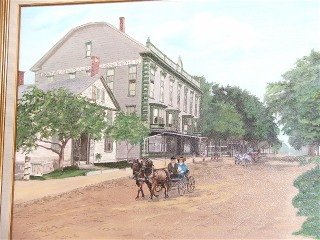 Back Then
---
3) Vandalism, crime and sex offenders (2007)....


Pittsfield has more than its share of registered sex offenders CLICK HERE

Not alone in having loitering issue
Concord Monitor Editorial 8/6/07
Pittsfield's problem with downtown loitering and drug use is familiar to residents, business owners and the police in most communities. The problem becomes more troubling when the mix includes, as it appears to in Pittsfield, juveniles as well as people in their late teens and 20s. It's more troubling yet when drug use is flagrant and extremely serious when it begins to spawn violence and crime.

Pittsfield resident Larry Berube was correct and courageous in his attempt to stir the community into action with a petition requesting that the loitering and drug use be curtailed. In return, he was threatened, a window in his home was broken and swastikas were drawn on his property. That symbol is guaranteed to provoke and intimidate, and the young know it. It might indicate something serious, like a gang of neo-Nazi wannabes, but it's more likely that it was used to get a rise out of adults. Either way, it's an attempt to instill fear that can't go unanswered.

Merrimack County Sheriff Scott Hilliard, who made cooperation among communities to fight drugs a campaign issue, has been meeting with Pittsfield Police Chief Robert Wharem and his counterparts in other towns to crack down on drug dealers. Like most small communities, Pittsfield lacks the resources to solve the problem on its own. It needs help.

To protect public safety and New Hampshire's quality of life, law enforcement will need more resources, by which we mean money. Drug investigations are time-consuming and expensive. Drug treatment programs for offenders are more expensive yet. But drug addiction is responsible for the majority of crimes. It's the reason why convenience store holdups, once a rarity, occur with alarming frequency in Concord and other cities.

Curfews and arrests for loitering aren't the answer. Many of those involved are too old for curfews and teen centers. And the state's anti-loitering and prowling law is a poor and clumsy tool, one inappropriate to employ to control people gathered in public places.

There's no easy answer. Stepped up police patrols and neighborhood vigilance, in the form of watch programs and citizen willingness to call an anonymous police tip line when a problem is spied, are crucial.

The Big Brother-like proliferation of security cameras - New York City recently announced that, like London, it is installing thousands of cameras to observe downtown - is offensive but arguably necessary. In this case, a few cameras, adequately protected from vandals and trained on Pittsfield's downtown, would be worth trying as a deterrent.

No group should be allowed to congregate and behave in a way that makes a public place off-limits for anyone else. When problems occur, it's the behavior of the group, not their ability to assemble peaceably, that should be addressed.
###
Concord Monitor - August 02, 2007

The police plan to arrest three people within the next three weeks in connection with the vandalism that occurred a month ago at Pittsfield's Floral Park Cemetery, where about 60 gravestones were overturned, Pittsfield Police Chief Robert Wharem said yesterday.

The individuals are all from Pittsfield - one minor and two adults, Wharem said. The police will not make the arrests for another two or three weeks because they're still waiting for the results of forensic evidence, he said.

"During the course of the investigation, last week was kind of the winding-down portion, where we completed our interviews," Wharem said, "and at the conclusion of our interviews, we were sure we had the right individuals."

The charges will likely include vandalism and criminal mischief, but they will differ for each person, Wharem said, depending on whether the person damaged or toppled certain gravestones.

Wharem credited residents who made anonymous tips with moving the investigation forward.

It was "more or less word of mouth that came through and told us what was going on," he said.

MADDIE HANNA
Monitor staff
###
Concord Monitor - Letters to the Editor - August 3, 2007

It took just the first few hours of the year I spent living in Pittsfield to determine that the town was plagued by a youth of a drug-addled, imbecilic and prejudiced nature. I never thought that life in such a small New Hampshire town could get much more unpleasant. Apparently, that was a stupid assumption to make.

The report of vandalism done to Larry Berube's home can only lead one to wonder if Pittsfield is the worst town in all of New Hampshire (Monitor, Aug. 1). I do not know what the statistics say, but it has to be one of the most unsafe suburban areas.

Many claim that Pittsfield really is a nice town, that it is just given a bad name by a few unfortunate young people who insist on ruining the party for everyone. I'm sorry, but that clearly is not the case; the violence and illegal activity are not coincidental, nor are they infrequent.

The only reason such acts are so commonplace is because there are not enough people in Pittsfield like Larry Berube who bravely stand up for what they know is right.
###
---
---
---
---

site sponsor -- Pittsfield based - Progressive Epoxy Polymers, Inc.
---
return to pauloman.com homepage
---
"If we must disagree, let's disagree without being disagreeable."
Lyndon Baines Johnson Source:Remarks to US Senators, 1965

---
---